Karen Disher was the original character designer for Daria; and according to Guy Moore, she won an in-house competition to design the main characters.
Career
Disher was an episode director during the first season, and then she was Supervising Director for the rest of the show's run. She also storyboarded and directed the episode Daria! and directed the two made-for-tv movies, Is It Fall Yet? and Is It College Yet? Years later, for the 20th anniversary, she partnered with Susie Lewis and created how the characters look in 2017 for Catching Up with the Daria Gang.
She also worked on projects such as Ice Age: The Meltdown, Horton Hears a Who!, and Ice Age: Dawn of the Dinosaurs, where she provided the voice of Scratte.
Trivia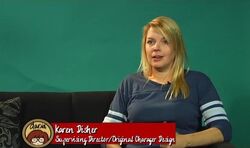 External Links
Community content is available under
CC-BY-SA
unless otherwise noted.