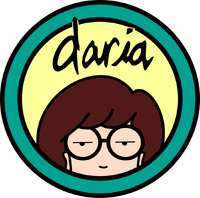 The following is a comprehensive episode guide to all five seasons of Daria, plus both TV movies. Here are the links to all the episode pages, summaries, and the original air dates:
Unaired Pilot
[
]
Title
Original Airdate
Sealed with a Kick
Unaired (Pilot Episode)

Daria snaps her pencil and borrows one from classmate and starting quarterback Kevin Thompson, who thinks she is trying to get with him.
Title
Original Airdate
1. Esteemsters
March 3, 1997

The Morgendorffers move to Lawndale, where Quinn becomes a member of the popular Fashion Club, and Daria meets an equally cynical artist named Jane during a self-esteem class taught by neurotic English teacher Mr. O'Neill.

2. The Invitation
March 10, 1997
When Daria helps Brittany with an art project, Brittany invites her to a party as thanks. She doesn't initially want to go, but is persuaded by both Jane and the fact she may be able to embarrass Quinn, who is also attending.
3. College Bored
March 17, 1997

During a visit with some old friends, Helen and Jake become concerned about Daria and Quinn's chances of getting into good colleges, so they insist that the girls take a college prep class. One of the requirements is to visit a college, and Jake and Helen naturally pick their alma mater, Middleton College.

4. Cafe Disaffecto
March 24, 1997

Daria, Jane, and Quinn are coerced into raising money for a new student coffee house, which involves Daria reading one of her stories on opening night.

5. Malled
March 31, 1997

Daria and Jane's economy class use the concept of "mall economics" as an excuse to go to the Mall of the Millennium, where Quinn and the Fashion Club happen to be skipping school.

6. This Year's Model
April 7, 1997

In a bizarre school-funded event, a modeling agency comes to Lawndale High to recruit female students.

7. The Lab Brat
April 14, 1997

For a class project for the man-hating science teacher Ms. Barch, Daria is paired with Kevin while Brittany must work with resident pervert, Upchuck, who blackmails her under his command.

8. Pinch Sitter
June 9, 1997
When Quinn has a date, Daria substitutes for her to babysit a hyper-conservative family's children, where she is fascinated by their level of brainwashing.
9. Too Cute
June 16, 1997
After a classmate gets a boost in popularity from a seemingly perfect nose job, Quinn becomes concerned about her looks, and is accompanied by Daria on a visit to the clinic of the plastic surgeon in question, Dr. Shar.
10. The Big House
June 30, 1997
After Daria and Quinn are both caught sneaking home past curfew, Helen and Jake set up a "Family Court" and sentence them to groundings.
11. Road Worrier
July 7, 1997
Daria travels with Jane, Trent and Jesse
12. The Teachings of Don Jake
July 14, 1997
After Jake pops a blood vessel because of stress over money troubles,the Morgendorffers go camping to relax. Meanwhile, Jane and Trent attend the routinely hostile Lane family reunion.
13. The Misery Chick
July 21, 1997
Famed yet utterly unlikeable Lawndale quarterback Tommy Sherman dies in a freak accident while visiting his alma mater, and no one seems to know what to think or feel about it, causing many to seek advice from Daria.
Title
Original Airdate
1. Arts 'N Crass
February 16, 1998
Daria and Jane create an iconoclastic poster for a contest depicting a teenage girl who secretly has an eating disorder, but Ms. Li and Mr. O'Neill keep urging Daria and Jane to change the artwork into something more positive, leading Daria and Jane to commit vandalism in order to save their work. Meanwhile, Jake loses his job as a consultant after a failed project and is desperate to find a new client.
2. The Daria Hunter
February 23, 1998
Lawndale High goes on another field trip, this time to a local paintball course, with Helen and Jake as parental chaperones. Everybody's true savage natures are revealed on this trip, from Ms. Li and Helen arguing about Daria's attitude to Sandi thinking Quinn is out to steal her role as head of the Fashion Club. Meanwhile, Daria and Jane ditch the paintball trip to go to a museum dedicated to a great white shark and run by a deranged woman whose story about how she tangled with the shark feels awfully familiar.
3. Quinn the Brain
March 2, 1998
Quinn needs a quick passing grade in English and ends up writing an impressive essay (by Lawndale standards, that is), but fears that it might give her a reputation as a nerd. Instead, it gives her a new following as a trendy intellectual, something that true intellectual Daria can't stand, especially since she knows the true Quinn. Since desperate times call for desperate measures, Daria is willing to consider extreme measures in order to persuade her sister to give up this façade.
4. I Don't
March 9, 1998
Daria and Quinn are ordered to be bridesmaids in their cousin Erin's wedding, where Daria finds Aunt Amy, younger sister of Helen and a kindred spirit.
5. That Was Then, This Is Dumb
March 16, 1998
Helen and Jake's old hippie friends Willow and Coyote Yeager visit, causing them to doubt their own value system. Daria and Quinn stick around to use their protest activities against them (and so Quinn can flirt with their son), until Jane invites Daria to help Trent and Jesse sell their parents' old records at a flea market.
6. Monster
March 23, 1998
Daria and Jane follow Quinn around for a day, for a school video project and the irresistible opportunity to expose her shallow personality. Meanwhile, Jake transfers his old childhood films to video and gets hung up on a clip of himself as a child falling off a bike with no one to help him up.
7. The New Kid
March 29, 1998
While working on the yearbook staff, Daria meets new student Ted, a sheltered, formerly home-schooled teen with a combination of arcane knowledge and extreme naïveté whose proposed changes to the year book don't go over well with everyone.
8. Gifted
June 29, 1998
Daria and Jodie are invited to tour an elite school for gifted students. Meanwhile, Quinn stays over with her friends—until they all kick her out and Quinn ends up with Jane.
9. Ill
July 6, 1998
The recurrence of a mysterious rash lands Daria in the hospital, but her reluctance to inform people of why she's there leads to some outlandish rumors at school.
10. Fair Enough
July 13, 1998
Ms. Li organizes a Renaissance-Fair fundraiser to repair the library roof (as the money saved up for it was spent on a polygraph machine by Ms. Li), and requires students to either participate or purchase a ticket. During the fair, Jake gets harassed by a surly teenager, Daria and Jane ride a Ferris wheel with a sobbing Stacy, Brittany keeps Kevin from participating in the play by driving far away from the school, and the Three J's try their hand at jousting with Mr. DeMartino, the Black Knight.
11. See Jane Run
July 20, 1998
Jane joins the track team, leaving Daria so alone that she begins talking to herself. Meanwhile, Quinn struggles with wearing painful high heels that make her legs look good.
12. Pierce Me
July 27, 1998
While helping Trent pick out a birthday present for Jane, Daria is talked into getting her navel pierced. Meanwhile, Helen and Quinn prepare for a mother-daughter fashion show being held at the school.
13. Write Where It Hurts
August 3, 1998
Daria finds her special school assignment, writing a short story featuring people she knows, unusually and frustratingly difficult; meanwhile, her parents are both going through midlife crises.
Title
Original Airdate
1. Daria!
February 17, 1999
In a musical episode, a hurricane bears down on Lawndale.
2. Through a Lens Darkly
February 24, 1999
Daria is reluctantly persuaded to try to wear contact lenses, but she finds them simultaneously physically, socially, and philosophically uncomfortable.
3. The Old and the Beautiful
March 3, 1999
The new spirit of "volunteerism" is mandatory at Lawndale High. While reading to senior citizens, Daria finds that her unenthusiastic tone makes her just as unpopular at the nursing home as at school.
4. Depth Takes a Holiday
March 10, 1999
In this imaginary tale, Daria is approached by Cupid and the St. Patrick's Day leprechaun, who want her to help them bring the spirits of Christmas, Halloween, and Guy Fawkes Day back to Holiday Island. Cupid zaps Helen and Jake with his "love taser" to keep them out of the way, causing them to become more amorous than ever and forcing Quinn to follow them around to prevent them from what she thinks is their intent to have another child.
5. Daria Dance Party
March 17, 1999
Quinn gets roped into organizing the school dance, but when her Fashion Club friends abandon her for it, she fobs the job off on Jane, whose design of the gym is so great that Quinn rushes to take credit for it. As "revenge" for choosing the dance over her ideas, Sandi organizes her own party on the same night as the dance, but it's so boring that the guys who came to it skip out and head for the dance.
6. The Lost Girls
March 24, 1999
Mr. O'Neill submits one of Daria's essays to a contest in a teen magazine and she wins. Her prize (if you can call it that) is spending the day with the self-important editor of Val magazine, who spends most of her time trying to hold onto her youth and celebrity contacts and thinks Daria's writing makes her "edgy."
7. It Happened One Nut
July 7, 1999
Daria's parents force her to get a job and her father finds her one at a peanut stand in the mall. Much to her chagrin, her only co-worker is Kevin. Daria is great at customer service, but the job makes her smell like nuts and requires her to smile, or else customers won't have to pay for their nuts, and she'll get the price docked from her paycheck.
8. Lane Miserables
February 17, 1999
The return of the rest of the Lane family sends Jane, and then Trent, to the Morgendorffers'. But a third visitor begins to shatter Daria's illusions of life with Trent: his so-called "date" for the night. But the fact that he breaks up with the girl "every other week" (Jane's words) offers her hope again, although Trent's a deadbeat.
9. Jake of Hearts
July 14, 1999
When Jake has a heart attack, his mother comes to the Morgendorffer household to look after him; Quinn is inspired to study to become a cardiologist. Meanwhile, two radio DJs broadcast their show outside Lawndale High with Principal Li's eager permission because she hopes this will raise Lawndale High School's popularity.
10 .Speedtrapped
July 21, 1999
Daria finally gets her driver's license, just before Jake and Helen take off on a marital retreat. When Jane and Mystik Spyral are pulled over in some hick town and thrown into jail for their inability to pay a traffic fine during an attempted concert tour, Daria must come to the rescue with bail money from the Lane household. To further complicate things, Quinn tags along for the ride and transforms it into more of an adventure than either of them expected.
11.The Lawndale File
July 28, 1999
Secret-service agents visit Lawndale High and urge students to keep an eye out for students that might be different and thus threaten their safety, as well as the safety of the country. Though Daria and Jane become suspect numbers 1 and 2, they actually notice an outbreak of weirdness among their fellow students, faculty members, and even relatives.
12.Just Add Water
August 4, 1999
Daria and Jane are forced to attend a casino-night cruise fundraiser (on a low-budget ship) and figure the best use of that time would be to catch up on sleep after watching an all-night Sick, Sad World marathon. Mr. DeMartino falls victim to his gambling addiction, and the drunken captain passes out at the tiller, causing the ship to crash into a garbage barge. The passengers scramble for the life boat (only one, due to costs) which had previously come loose when Kevin and Brittany made out in it, and got marooned. In the end, everyone must jump ship.
13.Jane's Addition
August 11, 1999
Daria and Jane's multimedia project for English class hits a snag when Trent, who agreed to do the music, completely slacks off. Meanwhile, Daria fears for her friendship with Jane when she falls for a guy called Tom.
Title
Original Airdate
1. Partner's Complaint
February 25, 2000
Daria, Jane, Brittany, and Kevin have respective spats and decide not to work on an economics project together; thus Daria works with Jodie, Jane with Brittany, and Kevin with Mack. All three pairs face prejudice and extortion, and only two of the groups actually remember to work on the project.
2. Antisocial Climbers
March 3, 2000
Mr. O'Neill organizes an overnight camping trip in the woods, inspired by their current assignment. Daria and Jane anticipate the worst, which turns out to be a wise move when the group gets stranded by a snowstorm with no provisions. Meanwhile, Jake and Helen rent a cabin to rekindle their waning romance...and end up housing a near-frozen Mr. DeMartino.
3. A Tree Grows in Lawndale
March 10, 2000
Daria talks Kevin into buying a motorcycle when she sees him buying a leather jacket to impress Brittany, but he settles for a moped. When he's goaded into performing a dangerous stunt, he crashes into a tree, spraining his knee and shattering his self-confidence. Without Kevin on the football team, the Lawndale Lions suck at playing, and any Lawndale High student is unpopular.
4. Murder, She Snored
March 17, 2000
A cheating scandal in Mr. DeMartino's class is fodder for Daria's nightmares, where she dreams that she's accused of killing Kevin, the suspected ringleader, and endures one weird scenario after another based on various TV murder-mystery shows.
5. The F Word
March 31, 2000
Mr. O'Neill encourages his class to pick something to fail at for personal growth, but all they get is misery, grief, and despair; Daria may be forced to supervise Quinn at an upcoming mall fashion exhibit, and Jane is becoming popular enough to replace Brittany as a cheerleader.
6. I Loathe a Parade
April 7, 2000
On an errand for her father, Daria runs into her school's annual parade where she encounters a lost child (Tad Gupty from "Pinch Sitter") and strange feelings on a chance meeting with Jane's boyfriend Tom; the parade gets in her way as she tries to get home with her purchase.
7. Of Human Bonding
April 14, 2000
Jake is excited to attend a franchising conference, hoping to meet a famous franchising genius, but when Helen is unable to attend, Daria decides to go in her place.
8. Psycho Therapy
June 28, 2000
The Morgendorffers attends a weekend retreat at the Quiet Ivy mental-health spa to be evaluated, as Helen is being considered for promotion. Over the course of two days, the Morgendorffers come face-to-face with some very unpleasant aspects of their lives. Quinn starts crushing on one of the doctors, Jake gets to air his grievances about being a henpecked husband, Helen learns that she's largely unappreciated, and Daria regularly checks up on "Jane cam", a secret webcam Jane set up to document her life, Tom included.
9. Mart of Darkness
July 5, 2000
The new discount warehouse store in Lawndale is the place to go out of your mind. Daria, Jane and many others are forced to brave the soul-crushing horror of discount shopping when Daria needs to replace a shoelace that Quinn took to replace the drawstring on her cosmetics pouch, Jane needs to replace some art supplies that Tom consumed, Kevin and Brittany need to get barbecue sauce for the Thompsons' barbecue, the Fashion Club needs some extra cosmetics, and Mr. DeMartino and a woman with glaucoma fight over free cheese-log samples. Tom also goes to the store with Trent and his bandmate to apologize to Jane.
10. Legends of the Mall
July 12, 2000
The Fashion Club tells (sub)urban legends to pass the time while they're stranded in a bad part of town; driving around Lawndale, and Daria hears one of them.
11. Groped by an Angel
July 19, 2000
Quinn becomes a believer in guardian angels after watching a television special about them, and although Daria remains skeptical, she's unable to convince Quinn after a series of events seems to validate Quinn's beliefs.
12. Fire!
July 26, 2000
The Morgendoffers must temporarily stay in a hotel after Jake causes a house fire, so Daria decides to stay with Jane, but her growing friendship with Tom strains the girls' friendship.
13. Dye! Dye! My Darling
August 2, 2000
Jane's latest artistic endeavour is to paint tiger stripes in her hair. She recruits Daria's assistance, and botching the job gets her in hot water with Jane, but it's her encounter with Tom that might be the biggest mistake of her life.
Title
Original Airdate
Is It Fall Yet?
August 27, 2000
The movie covers events during the summer between Daria Morgendorffer's junior and senior years of high school, after the episode "Dye! Dye! My Darling" and before Fizz Ed.
Title
Original Airdate
1. Fizz Ed
February 19, 2001
Despite Daria and Jane's protests, Principal Li makes a sponsorship deal with a soda company for Lawndale High that gets ridiculously out of hand.
2. Sappy Anniversary
February 26, 2001
Tom seems to have forgotten his and Daria's six-month anniversary, which Quinn points out to Daria, who also had not taken note. Daria is unsure if she is upset at Tom for forgetting, or at her herself for how stereotypical she feels for being upset by it. Meanwhile, Jake is in over his head when he gets a new job for an Internet startup.
3. Fat Like Me
March 5, 2001
Sandi falls down a flight of stairs and breaks her leg, then puts on a few pounds while recuperating. She is too embarrassed to return to school, forcing a Fashion Club crisis and Quinn volunteering to coach Sandi's weight-loss regimen. Daria and Jane bet each other on whether the Fashion Club will break up,
4. Camp Fear
March 12, 2001
Daria and Quinn attend a reunion at their old summer camp, Camp Grizzly. Quinn looks forward to reconnecting with old acquaintances, but Daria has nothing but bad memories of the place and her fellow campers. Meanwhile, Trent is thinking of breaking up Mystik Spyral because the band is "getting stale," but is inspired to keep it going after he and Jane visit a nearby rustic couple's home.
5. The Story of D
March 19, 2001
Daria submits a short story for publication, despite her misgivings about the tale's quality. Mr. O'Neill sees her mailing it, mentions it in class, and suddenly the news is all over school, much to Daria's chagrin. Meanwhile, the Fashion Club is inspired to perform a charitable act—hoping to buy a new mirror for the girls' restroom—they publish a newsletter answering fashion questions and giving fashion forecasts.
6. Lucky Strike
March 26, 2001
When the Lawndale High faculty goes on strike, Ms. Li hires temporary replacements to keep the school running. When forced to get rid of the substitute English teacher because of his pedophilic behavior—hitting on Tiffany, who did not understand he was making advances), Ms. Li recruits as his replacement the student whose mother was responsible for getting him fired: Daria. Naturally, this embarrasses Quinn.
7. Art Burn
April 2, 2001
Jane gets a job making replicas of established paintings, but grows to feel that this interferes with her artistic creativity.
8. One J at a Time
May 21, 2001
Quinn decides she needs a steady boyfriend, Jake attempts to catch a squirrel that has been getting into the garbage, and Daria is afraid to act on her mother's suggestion of inviting Tom over for dinner because she is unsure how he will react to her family, especially Jake.
9. Life in the Past Lane
May 28, 2001
Jane meets and begins dating a guy named Nathan, who is into retro fashion, and seeing them have fun causes Daria to wonder if she and Tom have fallen into a rut. Unfortunately for Jane, Nathan is too obsessed with retro topics and criticizes Jane over small wardrobe anachronisms. Meanwhile, Upchuck's prowess with magic and sleight-of-hand intrigues Fashion Club-member Stacy, who assists him in a magic show at school.
10. Aunt Nauseam
June 4, 2001
When Daria's Aunt Rita visits, having guilted Helen Morgendorfer to represent Rita's daughter Erin in a prospective divorce, the two sisters dredge up old grudges. While Jake goes into hiding, Daria calls in Aunt Amy to referee, but Amy gets sucked into the fight, leaving Daria and Quinn to do damage control. The three adult sisters' last name, Barksdale, is given, and Amy notes she lives a few hours away by car.
11. Prize Fighters
June 11, 2001
Daria reluctantly competes for a major software company's academic scholarship, but finds both the company and the idea of being tutored for the finalist interview to be ethically problematic. In addition, she finds herself competing against two other Lawndale students: Jodie and Upchuck.
12. My Night at Daria's
June 18, 2001
Each having been reading for hours, Tom and Daria inadvertently fall asleep in Daria's room, spurring rumors that they are sexually active. Eventually, Daria considers having sex with Tom, but changes her mind.
13. Boxing Daria
June 25, 2001
The Morgendorffers get a new refrigerator delivered after the old one conks out on them, an operation overseen by Helen (as Jake is out of town, having gotten tickets to a marketing conference at the last minute). As Daria and Quinn haul the empty box out to the front yard, the combination of Jake's absence and the empty box starts to trigger a childhood memory in Daria.
TV Movie #2
[
]
Title
Original Airdate
Is It College Yet?
January 21, 2002
The movie shows the characters of Daria Morgendorffer's class as they approach their high-school graduation and look toward college.