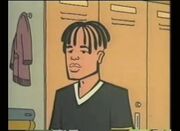 Michael Jordan Mackenzie
 (formerly
Michael James Mackenzie
) also known as
Mack
or 
Mack Daddy 
by
Kevin
, which greatly annoys Michael, is a student at
Lawndale High
. He is on the football team with
Kevin
. He is a cool, laid-back student who while he is a friend of Kevin's, he can often annoy Mack.
According to him, in the episode "Misery Chick," his original name was Michael James Mackenzie but his father changed it when he was older to Michael Jordan after the Chicago Bulls won their first championship with Michael Jordan.
Michael is dating/involved with Jodie.
Voiced by: (in order)
The Invitation (10 March 1997) P
Cafe Disaffecto (24 March 1997) P
Malled (31 March 1997) P
The Big House (30 June 1997) P
Road Worrier (7 July 1997) P/D
The Misery Chick (21 July 1997) P
The Daria Hunter (23 February 1998) P
I Don't (9 March 1998) P
Monster (23 March 1998) P
Ill (6 July 1998) P
Fair Enough (13 July 1998) P
See Jane Run (20 July 1998) P
Write Where It Hurts (3 August 1998) P
Daria! (17 February 1999) K
Daria Dance Party (17 March 1999) K
The Lawndale File (4 August 1999) K
Just Add Water (11 August 1999) K
Partner's Complaint (25 February 2000) A
Antisocial Climbers (3 March 2000) A
A Tree Grows in Lawndale (10 March 2000) A
Murder, She Snored (17 March 2000) A
The F Word (31 March 2000) A
I Loathe a Parade (7 April 2000) A
Legends of the Mall (12 July 2000) A
Fire! (26 July 2000) A
Fizz Ed (19 February 2001) A
Lucky Strike (26 March 2001) A